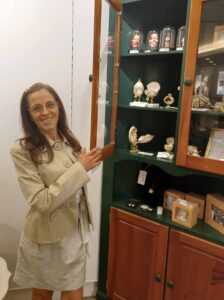 If you'd like to have 'Eggstravagant Designs' create something just for you, or as a gift for someone else, I'd love to hear from you. Email me at:
Adriana Vidrio
Where to find Eggstravagant Designs:
The Bangor Mall – many of my creations can be seen at 'Maine Micro Artisans'. It's a wonderful store filled with unique art, treats, clothing, and useful items, all from Maine Artists. Facebook
I've listed a few of my Handmade Clay Figurines on Etsy, with more pieces to come. If you have a moment, please check out my Etsy shop 'ArtToTouchYourHeart'.